The Singapore Pavilion Broke Ground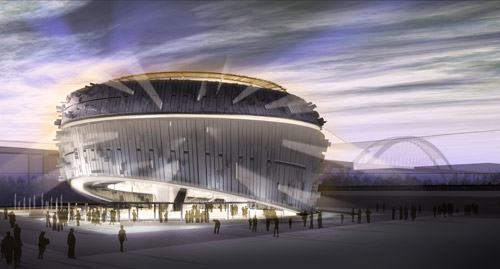 The Singapore's National Pavalion at the Shanghai Expo 2010 - Urban Symphony, covering an area of 1158 square miles, broke ground on June 7. The whole complex was inspired by a musical box, which best expressed the theme of Singapore's participation in the Expo through a symphony composed of the water fountain movements, interplay effects of sounds and visuals. The pavilion will share a public square with countries from ASEAN and Oceania, viewable from various directions including the majestic Lupu Grand Bridge.

The architects says, water and garden are the basic conceptual elements of the pavilion. Meanwhile the design highlights itself with energy-saving and environmental protection basic elements.
The entire three-story pavilion will be supported by four columns with different shapes and sizes, representing Singapore's multi-racial society that all share a common goal.The open wall and running water along the perimeter of the first floor will naturally adjust the temperature of the venue. The ground floor will host showcases, performances and activities, while the column-free second floor will screen video about Singapor's culture. The tropical flora on the facade will allow the visitors experience the essence of living in a garden-city.