As a cosmopolitan city, Shanghai amazes the world not only with its economic booms but also its entertaining culture. For a long time, Shanghai has embraces the eastern and western cultures. Shanghai had been the leading role of entertainment for long in the past. Now more entertainment districts fresh the city, people will never have doubt how to spend their leisure time. Theatres, Cinemas, Circus, Teahouses, Restaurants, KTV, boutiques, Bars & Clubs and parks etc. assure of no bore of nightlife.The popular bar areas scatter at the bund, Xintiandi, Hengshan Road, Maoming South Road, Julu Road along subway Line 1.
Xin Tian Di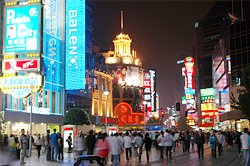 It is a great success of combing the ancient architecture with the modern life. Xin Tian Di displays a comparatively traditional Shanghai architecture called Shi Ku Men. But walking into all those newly built-up, you find everything modern, western and trendy. There is a great conclusion for two kinds of people whom like to be here: The one likes to look at or the one likes to be looked at.
Fu Xin Park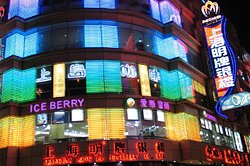 It takes you almost one hour to find Park 97(ranked as the best bar in China now) as it is located in the most inner side of the park. But be aware of the price. They charge us 50RMB for the entrance and a Gin Tonic for 54RMB. Another bar next to Park 97 is Guan Di as many Chinese celebrities go there often. The best Karaoke house Cashbox(Qian Gui) is also located inside of the park. So this park has it all! But it is no longer a park as all vehicle
Hen Shan Road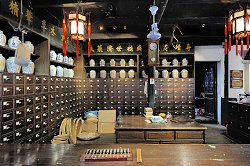 It's foreigners' favorite place to get involved with nightlife. It is the hottest place before Xin Tian Di. It seems lossing its attraction right now. But still my favorite place since it shows a more natural and real Shanghai taste. Taking an afternoon walk on Hen Shan Road is the most joyful thing, with all the noise scattering away from you, with all shades covering upon your head, with little people passing by you. Probably it's the best Shanghai life.
The Bund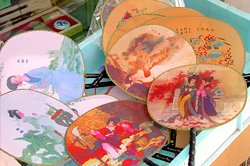 The Bund has a stunning review at night when the city's dressed up with neon and lights. It's irresistible to take a nighttime Huangpu River cruise when the historical architectures and modern skyscrapers make an appealing look. You can spend some leisure time and taste the nostalgic atmosphere alone or with friends around the Bund area and car-free Nanjing Road.
Party World (Cash Box )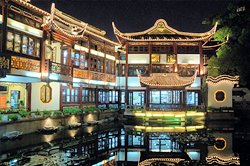 Xujiahui Branch: 1F 580 Tianshi Bridge Road, Xuhui Area Luwan Branch: 109 Yandang Road, inside the Fuxing Park Jing"an Branch: 457 Urumchi Road North, near Shanghai Hotel Huangpu Branch: 68 Zhejiang Road South, close to the crossing of Ninghai Road East Putuo Branch: 139 Xinhui Road, next to the Jade Buddha Temple Hongkou Branch: 1661 Sichuan Road North, Hongkou Area
Hao Le Di KTV in Shanghai
Songjiang Branch: 320-338 Zhongshan Road Middle, Songjiang District Huaihai Branch: 5F, 438 Huaihai Road Middle, Luwan Distrct Huangpu Branch: 3F, 180 Xizang Road Middle, Huangpu District Nandong Branch: 6F, 479 Nanjing Road East, Huangpu District Head Branch: 2 Shunchang Road; close to Xintiandi, the crossing of Taicang Rd & Haoshan Rd Meiluo Branch: 7F, Metro City 1111 Zhaojiabang Road, Xujiahui, Xuhui District Wu Jiao Chang Branch: 3F, 2665 Siping Road, Yangpu District Pudong Branch: 3-4F, 579 Zhangyang Road, Pudong Area Cai Fu Branch: 4F, 28 Guoxiang Road, Yangpu District Damuzhi (Thumb) Branch: 1F, 36, Lane 199 Fangdian Road Zhengda Branch: 8F Super Brand Mall, 168 Lujiazui Road West, Pudong New Area
Qilin Musical KTV City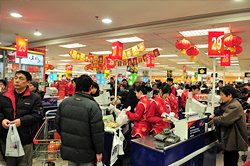 Wuhualu Branch: 300 Wuhua Road, Hongkou District, Shanghai Wenxilu Branch: 975 Wenxi Road, Zhabei District, Shanghai Jiaizhoulu Branch: 941 Jiaozhou Road, Putuo District, Shanghai Caoyang Branch: 141 Lanxi Road, Putuo Distric, Shanghai
Langsha KTV
Qibao Branch: 3F Longcheng, 3655 Qizi Road, Minhang District, Shanghai Nanjing Donglu Branch: 7F Mankedun Square, 463 Nanjing Road East, Huangpu District, Shanghai Xuhui Branch: 6F of GMS, 2018 Huashan Road, Xuhui District, Shanghai Baoshan Branch: 4F of Sai Bo Digital Square, 49 Youyi Road, Baoshan District, Shanghai
People 7 Bar & Restaurant of Shanghai
Add: 805 Julu Road, Jing"an District, Shanghai